There is nobody quite like Blake Lively.
The classic epitome of beauty and elegance, Blake emits all of these qualities on and off the red carpet.  From the Met Gala to the Cannes Film Festival, Blake Lively takes the top spot on the the best dressed list.  She has single handedly blown everyone away with her Cannes looks this weekend and she has done it all while being pregnant.
Ever since she announced her second pregnancy with husband Ryan Reynolds, Blake Lively, Best Dressed veteran, has been killing the pregnancy gown game. From her Met Gala rose, strapless, Burberry gown to her stunning Cannes looks, it seems that Blake Lively can do no wrong.
During her latest Red Carpet appearances at the Cannes Film Festival, Blake has stepped out as the Lady in Red, The Lady in Sheer, and as an Elsa and Cinderella look-alike.  Keep reading below to see all the details on "Blake's maternity Cannes' looks."
Crimson Red
This little red number was one for the books.  At a photo call for "Cafe Society", Blake opted for a bold red, empire waist, Juan Carlos Obando jumpsuit that she paired with two rings from Lorraine Schwartz.  With a cross body panel, this jumpsuit conveniently gave off the illusion of a maxi dress, which seemingly hid her growing baby bump.  Around her neck, Blake wore a thin red scarf that trailed behind her during her photo session.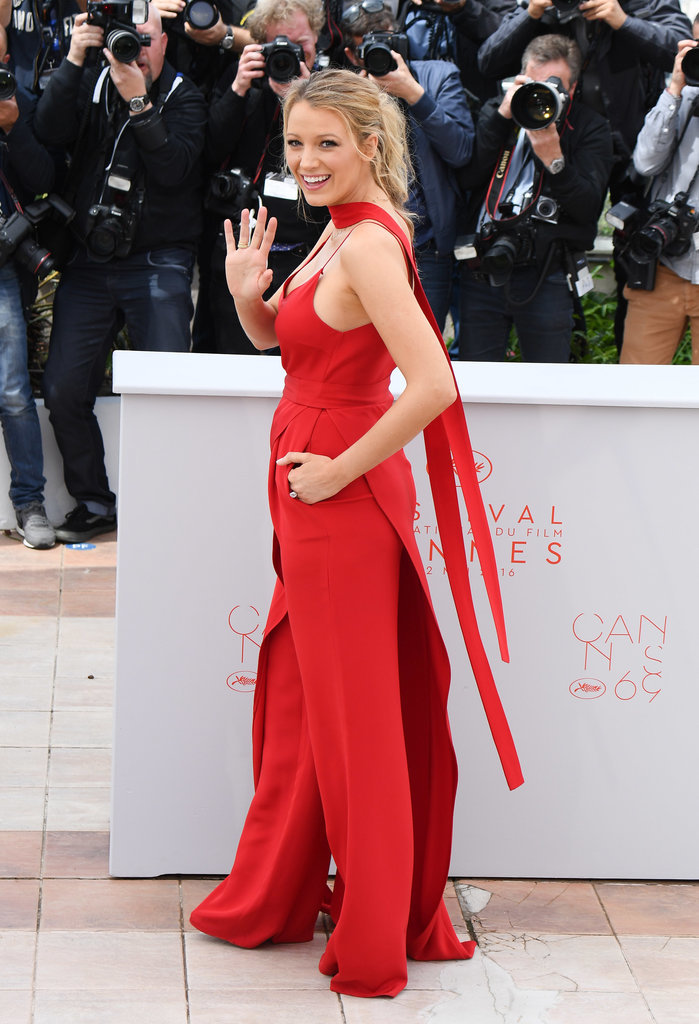 Via Instagram, she showed off her silver Louboutin pumps that made an appearance several times later on during the week.  The 28 year old style star, not only shared her Louboutins with the world, but also her jewelry to match.
Sheer is the new black
At the "Cafe Society" premiere, Blake once again took everybody's breath away with a sheer, cut-out Atelier Versace gown laden with Swarovski Crystals.  Getting the "naked" dress just right,  she cascaded down the red carpet stairs with a mesh trail cascading behind her.
She paired this gown with Ofira and Lorraine Schwartz jewels that she shared with her fans via Instagram.  The social media maven gave a glimpse to all of her details on her Instagram during the week.
Queen Elsa
At the premiere of "The BFG", she wore a blue Atelier Versace gown.  While not many people could pull off a bright blue gown, Blake captured the eyes of everyone on the red carpet with her long train and one-shoulder sparkler.  Some fans even refereed to Blake as the new and improved Elsa from the Disney channel film, Frozen.  Beaming in this gown, the thigh high slit and dramatic train, made this look a Best Dressed winner.  This look most definitely marks her official bump debut.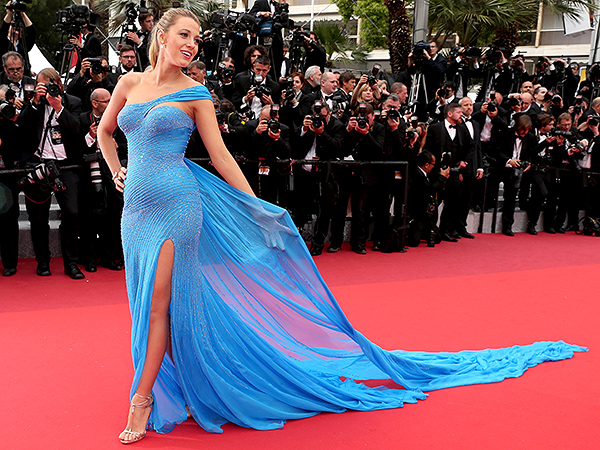 Cinderella's fairytale 
Channeling her inner Cinderella, Blake shined like a princess at the premiere of Slack Bay in this mint organza Vivienne Westwood Couture gown.  With metallic nail polish and Christian Louboutin silver pumps to match, Blake pulled her hair into an up-do with a diamond Lorraine Schwartz headband.  Never ceasing to amaze, the ruffled skirt on her corset gown was made out of 30 meters of organza.  Although she is a beauty, pregnant or not, the sequin flowers embroidered on the corset of her gown, conveniently hid the pregnant baby bump underneath it all.  However, considering her maternity wear has been Vivienne Westwood Couture and Atelier Versace, we would take pregnant Blake Lively any day.
Blake Lively is the style MVP at the Cannes Film Festival 2016.  Bringing the drama as well as the fantasy element with some major red carpet looks, Blake's growing baby bump only means more fabulous red carpet maternity wear: Blake Lively approved.